I'd like to share with you some friends of mine who have enriched my life.
RUDY GUESS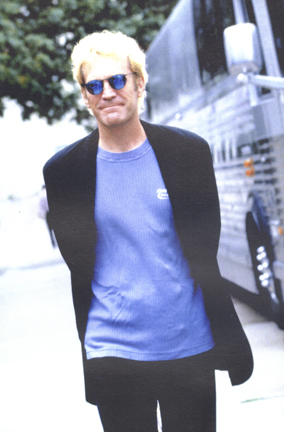 With the passing of Rudy Guess on December 31, 2010 in Studio City, California, Lorna Guess lost the love of her life, her beloved husband, partner, and best friend. All of us who've known Rudy have stories to tell about how much he meant to us. The loss is tremendous. He loved us, we loved him, and we'll miss him.
To me, Rudy was a brilliant guitar player, musical director, bandmate, and longtime friend. He was also an optimist, and in that spirit, we cannot speak only of loss. On the other side of loss is gratitude. As one among many who knew him, I will forever be grateful for the memories Rudy, Lorna, and I made together in the years since we first met in 1987.
Rudy was born to Ike and Shirley Guess on February 27, 1953. They named him Michael Guess – Mike, as he was called. Rudy's surviving brother is Mitch Guess. When Mike found himself in a band with several other "Mikes", they all decided to take new stage names. "Rudy" became his professional name and eventually the name everyone knew him by.
It was my good fortune to have been part of the circle of kindness known as The Guessae (pronounced Guess-eye). I can think of no greater honor than to be included in Rudy and Lorna's lives as a valued friend and an always-welcome visitor to their home. I'm thankful that I had a chance to visit with the Guesses and reaffirm the joy of our friendship a few days before Rudy died.
Should you happen to look up the definition of "friend," if you don't find Rudy's photo at the top of the page, I hope you'll write a letter to the editor of that dictionary. Rudy loved people and appreciated every moment as a gift. He delighted in every experience, great or small, and he never lost the sense of wonder he must have had as a child. One day, while Lorna, Rudy and I were walking past the United States Capitol, Rudy stopped. His eyes were aglow with the reflection of the clear, blue sky as he took in the import of that majestic structure.
"Look, Lorna," he said. "We're standing in front of the United States Capitol!"
Wonderful. Full of wonder. That was Rudy. His smile that day looked as if it could have generated enough power to light the entire city of Washington, DC, for the next 100 years. We who knew him considered ourselves abundantly fortunate to see that smile so often. A beautiful sunset would light his face from within, as would the sight of one of the Guesses' many rescued dogs running on a couple of broken legs that had recently healed. His smile beamed particularly bright the day he came into the Skyline Studio in the late 1980s with a SONY MegaBass that he'd bought from a street vendor in New York. He was quite pleased with himself because he'd been able to talk the vendor down from what savvy New Yorkers considered a much-too exorbitant price to an amount that was merely exorbitant. And Rudy's smile never failed to appear when Lorna walked into the room. When he wasn't playing a guitar, he was often holding Lorna's hand. She was his link to life.
But what put the smile on Rudy's face most consistently was playing music. A skilled recording engineer, owner of The Rude Stude (a name I uttered in jest that, to my surprise, he adopted), a gifted musician, accomplished musical director, music producer, and cat-herder (in the sense of corralling musicians), Rudy was happiest with a guitar in his hands. He loved recording, but even more, he delighted in playing live with other musicians. In any video of any show of mine after 1987, you can't miss Rudy. He's the cat with the biggest smile.
Rudy played his last gig on December 4, 2010 at Rock and Roll Pizza in Woodland Hills, California with bandmates Keith Clark, Sharon Celani, Teddy Andreadis, John Humphrey and David Steinberg.
From my perspective onstage at the piano, I could always see Rudy. I relied on him to give me a solid foundation on top of which I could build a performance and add different colors on the spur of the moment to whatever song we were performing. Usually where I led, Rudy would follow. But sometimes he led me in such a subtle way that I didn't even know I was being led, and yet there I'd be, right where Rudy was musically, singing and playing with the confidence of a performer who knew her back was covered at all times.
Rudy was solid in life as well as in music. If you were looking for a guy you could count on, Rudy was your man. If you needed something fixed, be it an instrument, a car, or a lawn mower, Rudy was your man. If you were looking for someone with an unswerving sense of right and wrong, Rudy was your man.
One day in the 1980s, I was traveling with Rudy and Lorna from L.A. to New York. There was a long line at the airport and I wasn't in the mood to wait (Who ever is?). I was formulating a plan for us to cut ahead of others in line, not because I was Carole King, but because I was that obnoxious woman who occasionally does things like that because she thinks she can get away with it.
Rudy would have none of it. "It's not right," he said. And that was that.
Rudy was so generous that his friends learned not to admire something of his because he'd wind up giving it to the person. When his friend Denver Smith was stricken with ALS and needed someone to care for him, Rudy didn't hesitate. He was on the next plane and returned to Nashville often to be with his friend until Denver passed away.
In the studio, Rudy was an amazing co-producer, with no showiness or ego involved. He simply, calmly, and quietly made everyone's work better. He usually let me set the pace until he thought of something I could do better. At that point he'd say, "Let's try one more take." Somehow, he managed to convey, without words, what he was thinking, and somehow, without words, I would know exactly what to do.
Rock solid, Rudy was. Emphasis on "Rock."
In the first decade of the 2000s when The Living Room Tour was on the road, my entire band consisted of Rudy and Gary Burr on guitar and sometimes, alternately, bass guitar. Even when I stepped away from the piano to sing "The Loco-Motion" downstage, Gary and Rudy rocked the hall as hard as if they were a nine-piece band. As the tour progressed, Rudy developed some dance steps for his solo in "Smackwater Jack." His joy at playing and dancing during this solo was so irrepressible that I started introducing him by saying, "Step out, Rudy." At the end of the solo, audiences always gave him a warm round of applause. In response, Rudy gave them a tip of his hat before resuming his role as a background cat. The Rudy dance and his hat tip are just two of so many treasured memories I have of being with Rudy onstage.
Offstage, Rudy was equally generous in being a member of my support team when I performed in 2007 with James Taylor, Danny Kortchmar, Lee Sklar, and Russ Kunkel at the Troubadour to celebrate the club's 50th anniversary. When James and I were planning our 2010 Troubadour Reunion Tour, we knew we wanted to have additional band members with us. First and foremost, I wanted Rudy on that stage with us, as did James and our original Troubadour band. The plan was always for Rudy to be part of our 2010 tour. Sadly, by the time the tour began, Rudy had become too sick to travel. His illness was the only reason that Rudy Guess did not participate in the Troubadour Reunion Tour.
I don't think I'll ever be able to play "Now And Forever" without him. If I do, you'll have to sing because I'll be bawling. And just as Lorna was Rudy's link to life, he was hers and he knew it. In that magical place where Rudy is now, not only will he be holding Lorna's hand forever in all the ways that matter, he'll be playing a guitar at the same time.
In this situation people usually say "Rest in peace," but I suspect that Rudy would rather be jamming with all the great cats in that venue. So, with Lorna's blessing, I'll go ahead and replace that traditional message with this one:
Step out, Rudy.
Carole King
January 6, 2011
To view the performance of "Smackwater Jack" highlighting Rudy's solo, dance moves and hat tip that Carole lovingly references above, please click here.
ELISSA KLINE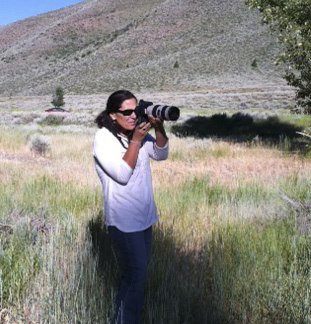 Born in New York City, Elissa grew up in Laurel Canyon.  After working in recording studios in both Los Angeles and New York, she relocated to rural Idaho in 1989.  Having lived only in urban areas, she was immediately awestruck by the magnificence of Idaho's natural landscape.  As she became more familiar with her environment, she began to get closer to things she encountered, photographing the patterns, textures, shadows and light in things she saw every day.  Through her camera lens, Elissa captured then, and today still captures, the beauty in what most of us pass by. 
Eight years ago, Elissa's love for and care of domestic horses led her to venture out into public lands nearby to see if she could find some of the wild horses that lived in the canyons.  She not only found them, she waited patiently for them to become accustomed to her presence until they ventured close enough for her to photograph them without any fear on their part.  Her photographs showing wild horse families within the herd and other photographs have been shown in galleries around the country.  Sadly, due to a federal government policy of roundups that have been carried out for decades under presidents from both parties, Elissa's wild horse photos have become the only connection most of her subjects still have to the wild.  After documenting a roundup in 2009, she became an outspoken advocate for wild horses, using her work as an opportunity to speak out against the cruel, unnecessary, and costly removal of America's wild horses from public lands. James Taylor and I were moved to feature some of her photographs during "Way Over Yonder" on our 2010 Troubadour Reunion Tour.
Elissa's photographs can also be seen in some of my albums and DVDs such as The Living Room Tour,  Welcome to My Living Room, Live at the Troubadour,  A Holiday Carole, and my memoir, A Natural Woman  as well as on the Home Page, News, Gallery and Banners on my website.
I'm fortunate to have Elissa as my friend, and we're all fortunate that she shares her artistic vision with us. See for yourself at ElissaKline.com.
GARY BURR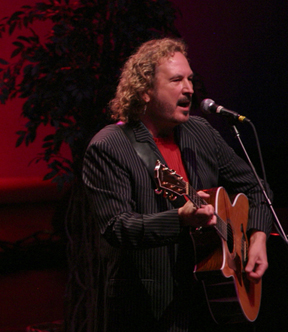 Gary Burr writes a song almost every day. Sometimes he writes two in one day. But that doesn't affect the quality. Quite the contrary; practice makes perfect. Gary writes beautiful, touching songs about love (falling in or out); songs that take you back in time; songs that make you cry or smile...songs that give you a new insight on the human experience. After a high school soccer game left him with a broken leg and time on his hands, Gary taught himself guitar and began writing. He eventually settled in Nashville and became one of the most sought-after writers in American music. He's a favorite collaborator of Michael Bolton, Aerosmith, Andrew Gold, Desmond Child, Jack Blades, Mark Hudson and Carole King. Gary has topped both the pop and country charts, scoring hits with just about every major country artist from Garth Brooks to George Jones to LeAnn Rimes.
But Gary also loves performing. He's in Ringo Starr's band (thereby fulfilling his lifelong dream of being a Beatle...sort of...) , has recorded a live album of his own called Stop Me If You've Heard This One... and you will have heard them. Gary also has a trio with Kenny Loggins and Georgia Middleman (another amazing singer/songwriter) called Blue Sky Riders.  Imagine if he had broken both legs...Better yet, check out his website: www.garyburr.com.
LAURA LARSEN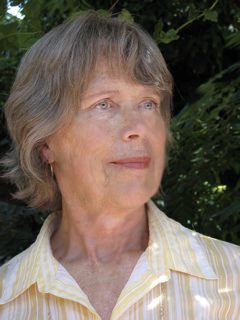 Laura Larsen, a longtime family friend, has released a book called Facing The Final Mystery that should be on everyone's "must read" list. Facing The Final Mystery is a handbook of practical and spiritual information. It's a sane and humane approach to prepare you and your family for the death of a loved one. Facing The Final Mystery teaches us to embrace dying as the final life experience, a transition into the next world, or into nothingness, according to your personal beliefs. I can't say enough to affirm the importance of this book. I don't want to lose a loved one (or be dying myself) but I feel so much better prepared now that I've read Facing The Final Mystery. I'm glad Laura is in my life. Now she can be in yours too. To order, go to www.lauralarsen.com
SPITFIRE: CAPTAIN GREG FREITAS AND CAPTAIN BARBARA EMERSON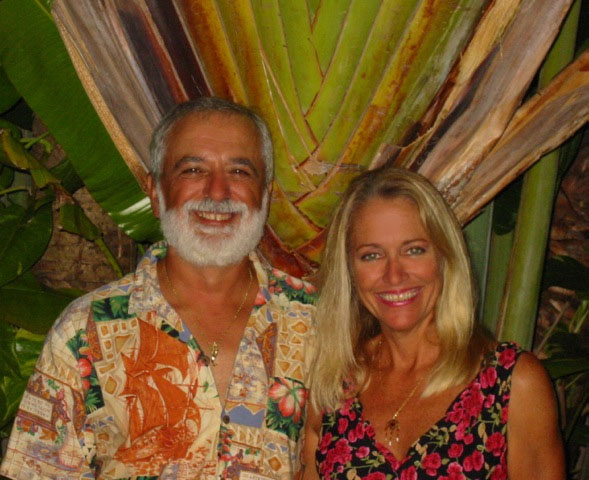 Greg Freitas and Barbara Emerson have found a way to combine their work with their passion - sailing.
Captain Greg grew up in Cape Cod and became an oceanographic engineer. Sailing since 1969, he is an award-winning sailor, having twice won the Mayor's Cup in Manhattan. He was honored by the United Seamen's Service, the Humane Society, the Department of Transportation and the U.S. Coast Guard for his work during the 9/11 evacuation and relief effort in New York City. Captain Barbara also grew up on the East Coast and spent her early years as a competitive equestrian in Florida. She worked as a CPA and then in 1989, she decided to take a one-year sailing sabbatical to the Caribbean. She has never left.
The two have joined together and become Co-Captains on a beautiful sailing yacht called Spitfire. Outfitted with solar panels and wind generators, Spitfire is proudly "Green." Having a ship with two captains sounds like something impossible to achieve, but it's not only possible, their remarkable co-captainship serves them and their passengers aboard Spitfire very well.
If you find yourself in The Virgin Islands and are yearning for an unforgettable sailing experience – the good kind of unforgettable – a sail on Spitfire with Captains Greg and Barbara will be just what the doctor won't have to order. Click here for more information.